Real Experts. Real Mom Talk.
Check out our I Help Moms Podcast!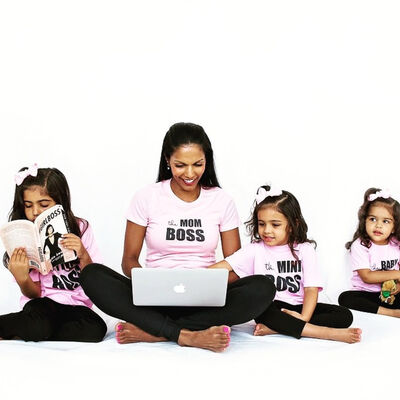 Taking family life from chaos to connection!
By Michelle Brown
Tips and strategies to make motherhood easier, healthier and happier with the TOP ihelpmoms.com family experts! Parenting, Potty Training, Sleep School, Lactation Coaches, Doctors, Doulas, Midwives, Nutritionists, Family Therapists and more! We want to help you do more than just survive motherhood, we want to help you to create a life you LOVE!
Do you want happy, peaceful kids?
I had an amazing coaching session with Coach Bonnie, mom of 10 that really helped me set a parenting intention so ALL OF OUR family can be nurtured. Find out what she told me!
show more
Why The Best Things In Life Are Usually Not Easy
Motherhood is a journey mentally, physically and emotionally. One thing I have found is that maintaining friendships, being a working mom of multiple business, being a mindful mom and serving others regulary is not always easy, but it brings true joy. On today's Happy in the Hustle Show I discuss 3 examples that were not easy but that brought so much joy I was able to prioritize them as core values in my life which has helped me to evolve into the mother, person, wife and philanthropist I want to be.
show more
Seeking Success: Professionally, Personally and Parentally
Our first born daughter had her 11th birthday today and it was a perfect time to reflect with my husband about parenting (more so surviving postpartum depression) then transitioning to thriving and taking a deep dive into facing fears and the mindset of creating a legacy and most of all intentionally choosing to grow together! Follow us @ihelpmoms and @drjustinbrown for living Happy In The Hustle
show more
3 Keys We Discover As Parents To 3 Kids, Multiple Businesses and Both Chasing Our Dreams
Yes social media shows this beautiful facade of all the highlights of entrepreneurship but the truth is THERE IS NO BALANCE! We found 3 keys to success in juggling all the things life has in store for us: 1. Prioritizing 2. Communication 3. Understanding Capacity & Seasons would love to hear your success strategies! Share them with me @michellebrownhappycoach!
show more
#1 Tip To Handle Bumps In The Road
Yesterday I found out some hard news regarding my youngest daughter. Thanks to this #1 tip I didn't spiral into mom guilt, I didn't feel like a failure, I didn't panic. Those were old patterns I wanted to let go. And with this #1 tip I was able to stay calm and confident for my little one. Experience the I Help Moms Difference
show more
There is No "Right" Time So Go For It
Right now we left our three little kids with an army of sitters and very very busy multi business landscape to attend an Ultimate Achievers conference but it can be so important to step out of the daily grind to gain perspective on how to continue to grow. We find we feel refreshed, we feel invigorated and it enhances our relationship as we love growing together. What's your favorite conference or seminar? Would love to connect with you on IG at @michellebrownhappycoach and share best practices to creating a life we love!
show more
Juggling All The Balls This Summer
I want to be a present mom and a highly engaged business leader. I want to invest in personal growth and connecting with like minded business leaders. I want to prioritize my marriage and having fun as a family. I know I am not alone on working on how to juggle all the balls in the a busy mom life! On todays Happy In The Hustle podcast I discuss 3 keys managing a busy life load. Make sure to message me on IG at @michellebrownhappycoach with your keys to success!
show more
My #1 Success Tip For A Focused Day
It's really simple to have a focused day.
It just takes discipline.
Check out this podcast for my #1 tip!
show more
Why Do Some Moms Seem More Balanced And Peaceful?
Do these moms know something I don't know?
Why yes...yes they did!
Coaching, Mental Well Being Support, A Village is the biggest differentiating factor I have seen in moms that are peaceful and seem to understand that juggling it all does not need to be solely on our shoulders. Motherhood is a BIG job combined with running businesses and homes and when we have a team to do life with...it truly becomes Happy In The Hustle.
show more
Choose Collaboration Over Competition To Live Free
There was a time when I first began business that I saw other mom leaders as competition. I always want to be honest.
But it was a lonely, tiring, fraught filled existence.
When I grew up, when I matured, when I realized how competition was cutting my enjoyment in life short I embraced collaboration.
The #1 shift to my mindset was recognizing I AM THE UNIQUE part of my business. Nobody will ever have my brain and therefore I don't need to worry. I began to open my world up to other women business leaders, other entrepreneurs to grow to expand and rise with AND LIFE GOT REALLY FUN!
Collaboration is a huge key to living Happy In The Hustle!
show more